OpenRISC Project Overview
Welcome to the project overview of the OpenRISC project. The major goal of the project it to create a free and open processor for embedded systems. This includes:
The project is driven by a very active community and has a long history. This unfortunately lead to scattered and partly outdated information. The goal of this page is to provide an overview over active parts of the project and the current development to ease the entry for newcomers or people seeking basic information. The information is collected from the following sites where you can find more information (which can be partly outdated):
Quick start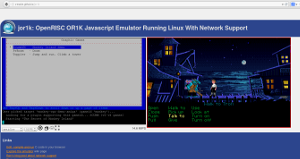 The very quick start: jor1k
There is an interesting project in case you just want to try out the OpenRISC in your browser: jor1k is an instruction set simulator written in javascript that boots Linux inside your browser. You can play a game, watch some demos or surf the internet using this emulator.
If that's not enough, feel free to compile your own code and run it in the simulator. There also is a demo where you can edit, compile and run inside the browser, so that you don't even need a cross-compiler toolchain!
Processor cores
There are two mainline processor core implementations:
System simulators
If you want to start with simulating the processor core to just try it out, you have the following options:
System-on-Chip
While a processor core is still the heart of every system, the peripherals, memory etc. are of course equally important. There are a number of system-on-chip available that you can use to perform RTL simulations, SystemC simulations or perform an FPGA synthesis of an OpenRISC-powered entire system:
Operating Systems
If you want to run an operating system on your OpenRISC you have a few options:
Toolchains
A few toolchains are generally supported. A C library is an essential part of your toolchain as it provides you the basic features. The following toolchains with different C libraries are available:
Applications
Cross compiling applications to your OpenRISC embedded target and packaging them up into a root filesystem image could be tedious. There are a few options to smooth the process:
Latest news